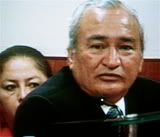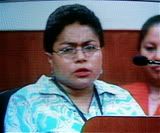 Samuel Dyer and Norma Espinoza while testifying on the La Cantuta case in the trial of Fujimori.
Tenth session. The court acknowledged the report the Inter-American Court of Human Rights gave to the Peruvian government concerning the threats received by civil defense lawyer, Gloria Cano.
Afterward, Samuel Dyer Ampudia testified as a victim of kidnapping. Witnesses César Antonio Barrera Bazán, Washington Rivero Valencia, Carlos Rosas Domínguez Solis and Norma Espinoza also testified.
Samuel Dyer, who was kidnapped and held in the basements of the Military Intelligence Service (SIE), described the events of his kidnapping, directly accusing Fujimori. Dyer said that the former president told the media he was a drug trafficker, terrorist and tax evader, though all of this is false. Fujimori responded that he made these declarations because Dyer's case was part of a campaign carried out by the government's revenue service (SUNAT) in order to create tax consciousness. When Dyer questioned why Fujimori accused him of drug trafficking and terrorism, which jeopardized his family and his work, the former president maintained silence.
During his testimony, César Barrera Bazán, former congressman who was also kidnapped the night of the coup on April 5, 1992, showed an official letter from April 1992, signed by Nicolás Hermoza, then head of the Armed Forces, which states: "by order of higher command" he would be arrested. The only higher command that Hermoza had was the nation's president, Alberto Fujimori.
Norma Espinoza testified on the events of the La Cantuta crime and reported that ever since she was summoned to court to testify, she has received threats. After Espinoza described how her life was saved during the executions, Nakasaki, Fujimori's lawyer, asked her about the improvements in the university – class regularity, infrastructure and food — after a military base was placed there. Espinoza responded that while there had been improvements, they should not have murdered students. Fujimori did not comment.
Carlos Domínguez Solis, chief of the National Counter-Intelligence Service at the time that Dyer was kidnapped, tried to testify that Fujimori did not give orders, though he ended up stating that Dyer was kidnapped because of an order given by Fujimori and processed by his advisor, Vladimiro Montesinos. Domínguez also said that in cases such as Dyer's kidnapping, "the arrested person should not be informed of the reason for his arrest." When Fujimori was given an opportunity to speak or contradict what had been said, he maintained silence.
The trial will continue on Monday, Jan. 15.