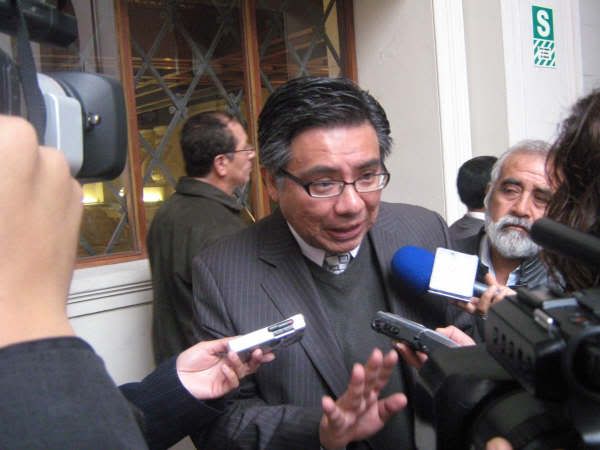 (César Nakazaki, former president Alberto Fujimori's defense attorney. Photo: Praxis) 
Supreme Public Prosecutor José Peláez Bardales has no doubt that former President Alberto Fujimori is guilty of the charges he faces.  And though he is very respectful of Fujimori's defense attorneys, he does not share their strategy.  Rather than have Fujimori confess, allowing him to have a lighter sentence, his attorneys insist that he is innocent.  Below are his responses in an interview with Fujimori on Trial.
Do you believe that the Supreme Court will reject Fujimori's defense appeal for annulment of the 25-year prison sentence?
The Transitory Criminal Court of the Supreme Court can either confirm the 25-year sentence against Fujimori for human rights violations, annul it or reduce it.  But in any of these three scenarios, the Court would have to explain why they ruled the way they did and refute arguments against the sentence.  However, the Public Prosecutor's Office is absolutely convinced that the Court will uphold the ruling since the sentence is well-founded.  Thus it is an irreversible sentence.
But if the ruling is annulled, will the case have to start over again?
Yes, and everything would have to start from scratch.  
Do you believe that Fujimori's defense has made a motion to recuse the judges in hopes that other justices will annul the ruling?
There is no other explanation for why he has made a motion to recuse judges that are in charge of ruling on this controversy.  He has asked for them to be removed, but did not succeed.  I think that this strategy is not really in line with the law.  The defense of Fujimori is mistaken and has already lost its path.  Now it only wants to delay the process. What the defense should have done from the start is to accept the charges of homicide and kidnapping and throw themselves on the mercy of the court with a sincere confession. [A confession would generally result in a lighter sentence.]  I think that motioning to recuse and seeking another court to annul the sentence in order to have another trial will obviously delay a year or more.  Meanwhile, the 2011 elections are nearing and they can use this period to polarize the case.
A new trial against Fujimori for allegedly committing acts of corruption will begin on July 13.  Is there conclusive documented evidence in this case, or only indicative evidence?
In this case in particular there are many documents that constitute conclusive evidence. One of these is the original supreme decree signed by Alberto Fujimori as President, Federico Salas as Prime Minister, and Carlos Boloña as Economic Minister, which authorized the payment of US$15 million to Vladimiro Montesinos. This document was turned in by Boloña after he took refuge under the "Active Collaboration law." [This law provides immunity to those who provide "useful" and "timely" information regarding crimes that they had participated in committing.] This proves that an illegal compensation was paid to the former advisor and that this money came out of government funds.  The Public Prosecutor's Office has asked for Fujimori to be condemned to eight years in prison. I am not permitted to participate in this trial since I have already participated in the same case against the former ministers.  But Assistant Public Prosecutor Avelino Guillen will take part in the trial.
How long do you think this trial will last?
There are approximately 60 witnesses that will testify and several videos that will be shown.  After this criminal trial produces a sentence, another case against Fujimori will ensue for breach of confidential communications, purchasing overpriced Chinese tractors, and bribing traitorous Congressmen. Here, the Public Prosecutor's Office has requested a sentence of 10 years.  This means that Fujimori will continue to face courts for a few more years.