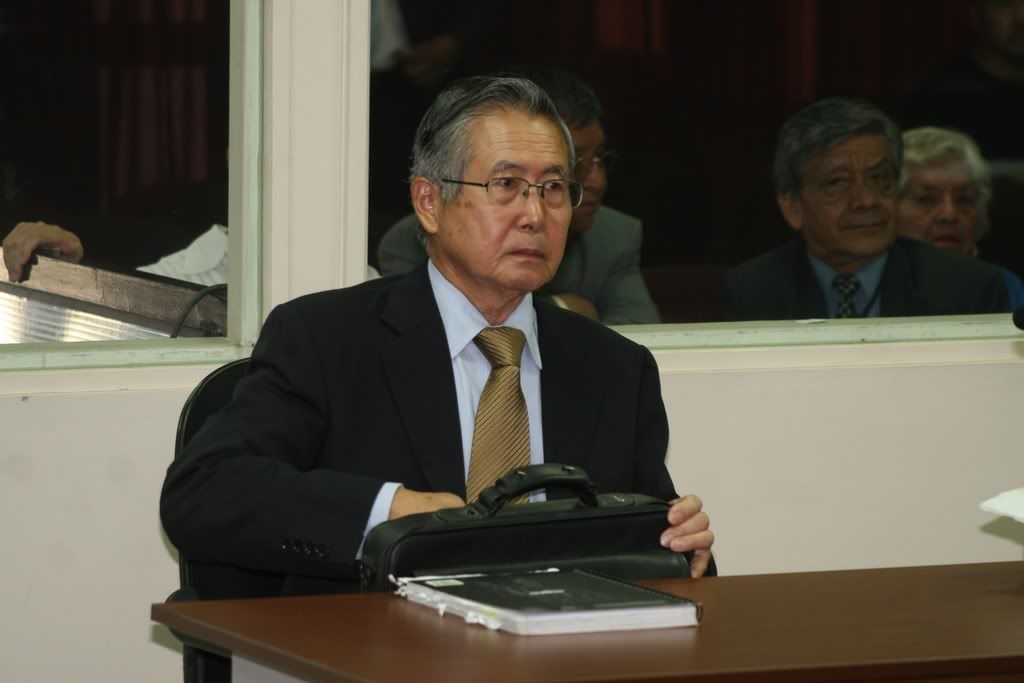 With the 16-month trial against former president Alberto Fujimori for human rights in its appeal stages, Peru has now shifted its attention to the issue of the next trial: corruption. 
Peruvian journalist Gustavo Gorriti recently wrote in local magazine Caretas that if a dictator does public works, people can forgive him for murder or corruption — but not both.  "Either killing or stealing and they'll tolerate you, but both of these together, that won't do," he wrote. 
Indeed, when news was released that former Chilean dictator Augusto Pinochet had millions locked away in US bank accounts, his reputation among Chileans suffered greatly.  Christian Labbe, former army colonel and advisor to Pinochet told the Washington Post in 2005 that the revelation of this corruption scandal was a blow to supporters who felt that human rights violations were justified as part of combating communism in the 1970s.  For there to be corruption to boot, however, was harder to justify.
In Peru, Fujimori is about to face his third trial since his extradition from Chile in 2007.  He has already been convicted in his first trial for abuse of power and sentenced to six years.  His second trial for human rights violations resulted in a 25-year prison sentence along with the payment of reparations to victims.  Now, he will face corruption charges for allegedly giving US $15 million severance pay to his former advisor, Vladimiro Montesinos, in the year 2000 for services rendered. 
"Up to now," says Gorriti, "Fujimori has insisted in saying that he didn't steal, that if anyone did, it was Montesinos."  But some local media have recently written articles to remind Peruvians of some past scandals.
For example, from May 18 to May 24, the daily newspaper La República featured reports on the suspicious origin of the funds used to cover the university studies of Fujimori's children during his term in office.  The reports were directed at Fujimori's daughter, Keiko Fujimori, currently a member of Peruvian Congress and the top ranking candidate for the 2011 presidential elections, according to polls.
Fujimori's supporters, known as the fujimoristas, have claimed that this is a politically motivated "media campaign" against Keiko.  Fujimorista Congressman Rolando Sousa declared that "a series of false publications" were in response to her recent "rise in polls."  The congresswoman has reportedly filed a defamation claim against La República.
But the corruption question doesn't stop at the issue of funds for college.  When Fujimori left Peru and resigned from the presidency in the year 2000, advisor Vladimiro Montesinos remained behind bars in Peru after his own attempts to flee the country.  At that time, Montesinos faced questioning and later trials. 
Gorriti reported in Caretas that in April 2002, before a Congressional Commission Montesinos declared: "Every month I gave [Fujimori] a good amount of money… in cash, an average of one million, half a million, 800,000. The amounts varied…"
Gorriti wrote that this statement was confirmed by various other people, including Matilde Pinche — Montesinos' trusted secretary — who declared that "this money was given when [Alberto Fujimori's] sister Rosa Fujimori arrived from Japan or when he went abroad.  Also on various occasions [Rosa Fujimori] went to the [National Intelligence Service building] to pick up money that was delivered by Vladimiro Montesinos Torres […] and also when his brother-in-law Víctor Aritomi came to or left the country…
Newspaper El Comercio reported that an anti-corruption court in Lima recently renewed national and international arrest warrant for three of Fujimori's brothers — Rosa, Juana and Pedro Fujimori — for the irregular management of US $20 million in Apenkai, a non-governmental organization.  These siblings currently reside in Japan.  
Will charges for corruption weaken support for former president Fujimori and his political party, now headed by daughter Keiko?  What strategy will the prosecution and defense take in this upcoming trial?