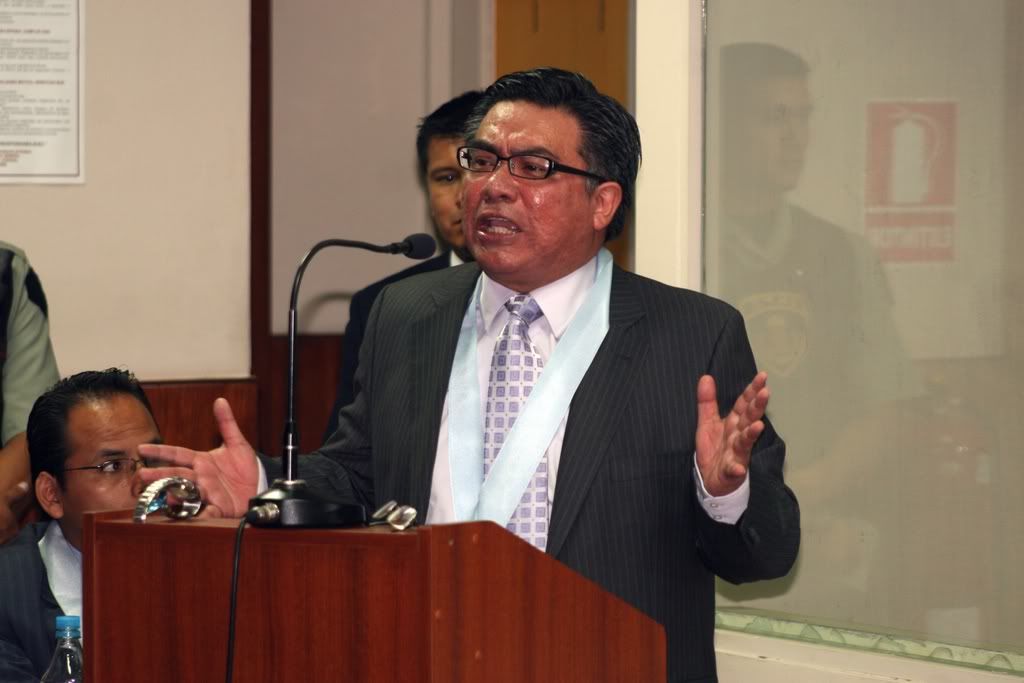 (Lawyer César Nakazaki. Photo: Judicial Power) 
February 18, 2009
146th session – Defense Attorney Cesar Nakasaki continued closing arguments based on the supposed media pressure on the judicial process.
I. Arguments of Fujimori's Defense
According to Alberto Fujimori's Attorney:
In the trial, Congress violated Fujimori's human rights, therefore the proceedings are not probative:
Congress violated Fujimori's rights in the pre-trial (Article 100 in Peru's Constitution), since due process was violated — a public lawyer was not assigned as required by law: "The fact that Alberto Fujimori had not been assigned a public defender, prevents the congressional proceedings from being considered probative proceedings in this trial."
Therefore, Fujimori's lawyer claims the Congressional documents used at trial are not valid nor do they have a probative effect, thus they cannot be incorporated as probative evidence in this trial.
The Public Prosecutor's Office also violated Fujimori's rights:
Though he did not state what type of violation had occurred, the defense attorney also indicated that the discovery phase of the present trial violated the due process of Fujimori's trial; nevertheless he declared that the oral arguments in this trial were conducted in an "impeccable manner."
Media trial: "Risk regarding the constitutional guarantee for an impartial trial"
Fujimori will be the "victim of a media trial in which he was condemned years ago." His lawyer asserted that this media influence additionally pressures the Court.
According to Nakasaki, in Peru and the rest of the world there are independent judges who are not influenced by the media trial; however: "There are judicial powers that are fragile when faced with the media trial, and this is a reality — much more so in the most important case in the history of the Peruvian justice system."
Afterwards, he made a detailed presentation of the ways in which various media publications and television programs had focused on the judicial process against Fujimori. He also criticized the media for not giving Fujimori a chance to state his case.
Finally, Nakasaki gave a detailed presentation of various judicial doctrines that support his defense argument regarding the media's influence over the judicial power.
II. Outside the courtroom
Supreme Court Judges speak out
Javier Villa Stein, President of the Judicial Power, reiterated his support for the judges of the Supreme Court's Special Criminal Court that is currently trying Alberto Fujimori for crimes against humanity.
Villa Stein said the judges trying Fujimori are "the highest quality people and professionals," and thus does not doubt their competence or impartiality. In reference to the media pressure Fujimori's lawyer claims could affect the sentence, Villa Stein responded that the press' contribution is important but the ultimate decision will be the Judicial Power's: "The judges in Peru and especially the Supreme Court are not puppets. We live in a democracy with freedom of expression and opinion, so any kind of pressure can be ruled out." 
Congress member says a guilty verdict for Fujimori would be illegal
Pro-Fujimori congressman and former lawyer for Alberto Fujimori, Rolando Sousa, said that if the Judicial Power finds Fujimori guilty, it would be illegal since there is no evidence against the former president.
Sousa also indicated that one of the judges trying Fujimori is oriented toward condemning him, in response to media pressure.
Mother of one of the Barrios Altos victims makes request to Nakazaki
Rosa Rojas, mother of 8-year old Javier Ríos and wife to Manuel Ríos — both victims of the Barrios Altos massacre — asked Fujimori's lawyer to show documents proving that her husband and child were terrorists: "I have heard … that Nakazaki demands written evidence in order to prove Fujimori's responsibility for the Barrios Altos and La Cantuta crimes. Well, I would also like to ask him to present document evidence that my husband and child were members of the Shining Path."
Amnesty for Fujimori and Abimael Guzmán
Alfredo Crespo, lawyer representing Abimael Guzmán Reynoso (former leader of the subversive group Shining Path), asked for amnesty for his client as well as for Alberto Fujimori, Vladimiro Montesinos and Alan García, Peru's current president. He asserts that this will achieve national reconciliation and a political solution.
III. Next session  
The next session will take place on Monday, Feb. 23.