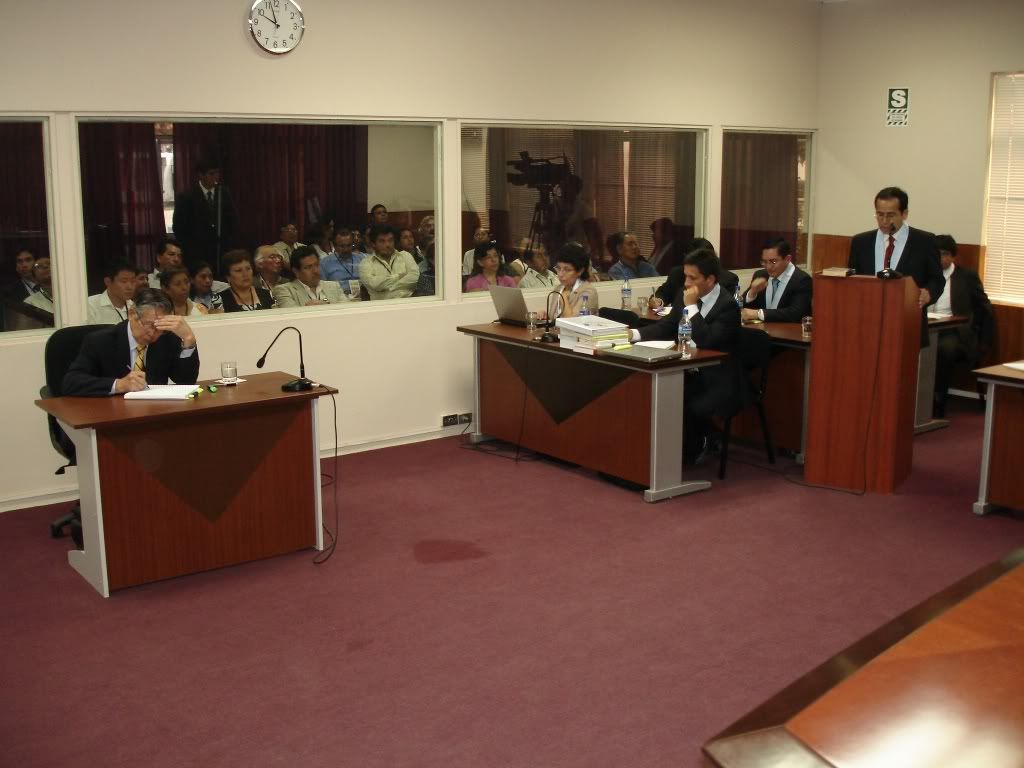 (Lawyers for victims' families present arguments. Photo: Judicial Power) 
February 9, 2009
One hundred forty-third session. Lawyers Gustavo Campos and Ronald Gamarra, who represent the families of the Barrios Altos and La Cantuta victims, continued presenting their final arguments.
I. Arguments presented
1.     Lawyer Gustavo Campos
Impunity attempt
Campos gave the following examples as evidence of attempts to secure impunity: repeated denial of the principal perpetrators' involvement in the crimes and their ties to the power system that Fujimori headed along with Nicolás de Bari Hermoza Ríos, former Commander General of the Peruvian Army; casting suspicion on incriminating documents; campaigns to discredit those who made crimes public; presentation of reports on alleged investigations that exempted perpetrators from responsibility, as well as the circulation of these reports to the military courts. All of these acts were part of the attempt to secure impunity, seeking to cover those who gave orders for crimes and those who committed them.
2. Lawyer Ronald Gamarra
Truth, justice and comprehensive reparations
Gamarra asserted that the families of the Barrios Altos and La Cantuta victims deserve truth, justice and comprehensive reparations from the Peruvian State. It is not possible to achieve justice without truth, he said, nor can reparations be achieved without justice. 
These values are interdependent. Furthermore, "truth, justice and comprehensive reparations are not only the victims' rights, but the State's obligation, and thus must be quickly and sufficiently carried out."
Not terrorists
Gamarra also asked the Court to include an order in its sentence for this trial requiring the State to explain to the country that the Barrios Altos and La Cantuta victims were not terrorists. This was clarified by Benedicto Jiménez in his testimony during this trial. Jiménez was a police official who formed part of the Special Intelligence Group (GEIN) that captured Abimael Guzmán, leader of the subversive group Shining Path.
Order to find the remains
The lawyers also asked the Court to include in its sentence an order to search for the rest of the victims' remains since these were never fully identified or found: "Fujimori has evaded telling where the remains can be found."
Sentence must condemn those responsible for crimes against humanity
"It is up to the Court to condemn these crimes against humanity…Those responsible for the crimes are not abstract entities, but human beings with names, and the highest of them does not have the courage to assume his responsibility for the criminal system that he headed along with [Vladimiro] Montesinos. That person is here with us and his name is Alberto Fujimori."
II. Next session
During the next session, scheduled for Wednesday, Feb. 11, the lawyers for the victims' families will continue to present their arguments.