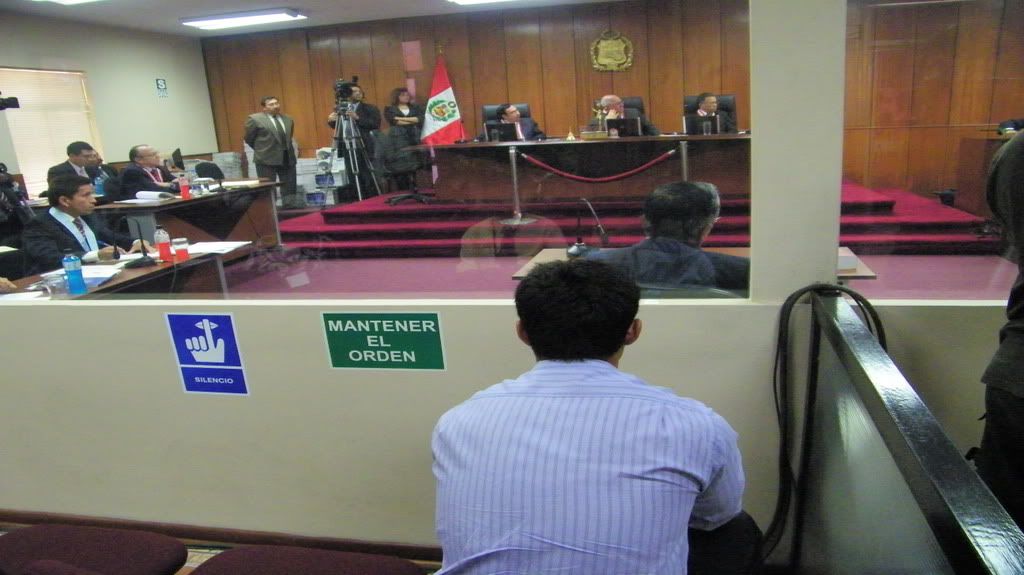 Alberto Fujimori's son, Kenji Fujimori, sits behind his father in the area designated for trial attendants. 
December 29, 2008
One hundred thirty-fourth session. The video and audio stage concluded and the Court suspended the trial until Jan. 12, 2009 in order for the prosecution and defense to prepare their final arguments.
I. Videos
1. Interview with former SIE agent. The video showed journalist Guillermo González Arica's interview in 2001 with former Army Intelligence Service (SIE) agent José Luis Bazán Adrianzén.
In the interview, Bazán stated that former President Alberto Fujimori knew of the Colina Detachment's activities. He also claimed Fujimori had lived in the SIE building for certain periods of time, putting him in constant contact with his advisor Vladimiro Montesinos, as well as Colina's operative chief, Santiago Martin Rivas.
Journalist González, who was present to recognize the video as the interviewer, confirmed that the images and audio in the video were true, as well as the statements made by the former intelligence agent.
1.1.  Public Prosecutor's opinion. According to the Public Prosecutor, this video clearly proves that Fujimori gave direct orders to military officials to eliminate suspected subversive group members.
1.2.  Opinion from Fujimori's defense. Lawyer Johan Pinedo questioned the video's validity as evidence since agent Bazán should be able to testify on this matter. However, though the Court summoned Bazán to testify, he did not respond and could not be found at any address.
1.3.  Fujimori's statements. The former president claimed that he never talked about the Colina Detachment with Montesinos and did not know that Martin Rivas was living in an apartment in the SIE beginning in February 1992.
II. 33 additional pieces of evidence
The Court announced that it incorporated 33 documents as complementary evidence to what has been debated in the trial.
III. Preparations for the following trial phase
At the end of the session, the Court announced the necessary preparations for the following phase of the trial, which will begin on Jan. 12, 2009 when the prosecution and defense will present their final arguments as well as a written copy of their conclusions. The Court also announced that the sessions will take place only on Mondays and Wednesdays from 9 am until 1 pm, with a 30-minute recess at 11 am.
Finally, the Court stated that Fujimori will have an opportunity to respond once the prosecution and defense have finished presenting their arguments.
IV. Outside the courtroom
The Court President, Javier Villa Stein, named the members of the Supreme Court's First Criminal Court, which will be in charge of revising Fujimori's human rights case if the decision is appealed. Judge Duberlí Rodríguez Tineo was named Court President and other members include judges Julio Biaggi, Elvia Barrios, Roberto Barandiarán and José Neyra.
V. Next session
The next session has been scheduled for Jan. 12, 2009.