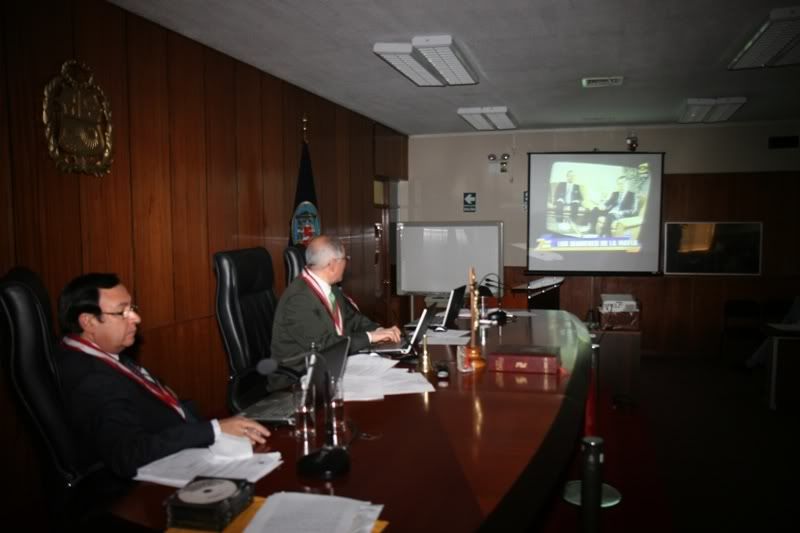 December 17, 2008
One hundred thirtieth session. The trial continued with the phase of recognizing the audio and video evidence presented. Former agents of the Colina Military Detachment, Santiago Martin Rivas and Jesús Sosa Saavedra recognized themselves in interviews. Later, Fujimori spoke about two of his presidential messages. Agent José Luis Bazán Adrianzén did not attend the session, thus the Court has cited him for Monday, Dec. 22.
1. Audio and video recognition. Former Colina agents Santiago Martin Rivas and Jesús Sosa Saavedra were called to recognize former military officials' voices in audios. Afterward, they recognized two presidential speeches.
1.1. Santiago Martin Rivas. Martin recognized his image as well as the content of an interview conducted by journalist Umberto Jara between 2001 and 2002, while former President Fujimori was a fugitive from justice in Japan. In the interview, Martin discussed the following:
His actions as well as those of the Colina detachment in counter-subversive efforts.
The parade of tanks in front of Peruvian Congress after Nicolás de Bari Hermoza Ríos, then chief of the Joint Command of the Armed Forces, was interrogated by the Constituent Democratic Congress (CCD)
The laws that came to be known as the Cantuta Law and Amnesty law. Martin Rivas claimed: "the government, in defense of its state policy, was not protecting me on passing these laws, they were also protecting themselves – the president [Alberto Fujimori] and his advisor [Vladimiro Montesinos]."
Martin Rivas recognized himself in the images, but claimed he did not remember what was affirmed in the interview. Rather he said the interview contained "false interpretations" and his testimony was induced by journalist Umberto Jara.
On Feb. 29 of this year, Martin Rivas claimed that this testimony had been rehearsed. He did not say that it had been induced.
Martin Rivas also apologized to Fujimori for the "verbal excesses" made against him.
1.2. Jesús Sosa Saavedra. Extracts from two interviews with Sosa were played:
In the first audio, Sosa mentioned that the Barrios Altos crime had been Vladimiro Montesinos' order. Sosa recognized his image and voice; however, when the Court asked him about his testimony, he responded that he did not remember and said "yes I said it, I said it wrong."
Afterward, he repeated the same after watching an interview he gave to a television program days before he was arrested, in which he affirmed that Colina's orders were given by the Army Command, Hermoza Rios. He also said that Hermoza Rios (currently represented by the same lawyer as Fujimori) is the only person who could give information on Fujimori's responsibility for the Barrios Altos and La Cantuta crimes. Sosa then expressed his discontent with the interview shown since he claimed they had agreed certain scenes would not be publicized.
Furthermore, Sosa reiterated that the Barrios Altos crime happened after intelligence reports confirmed that members of subversive group Shining Path met there.  Regarding the Cantuta crime, Sosa claimed the students had participated in the Tarata street bombing in Miraflores. However, he did not clearly state which intelligence reports he referred to.
Benedicto Jimenez, who headed the police group that captured subversive leaders, has already testified in this trial that according to intelligence information, the victims of La Cantuta and Barrios Altos were not part of the Shining Path.
Sosa also stated that before his capture, the lawyer for the victims' familias, Ronald Gamarra, suggested he incriminate Fujimori for Colina's crimes in exchange for legal benefits. Outside of the courtroom, Gamarra signaled that he would not respond to unfounded, false accusations.
1.3. Fujimori's presidential speeches. Two speeches were shown in court:
Feb.7, 1991 (before Colina's crimes), when Fujimori spoke about the Analysis Group, formed by military officials from the National Intelligence Service (SIN) and how he would use a "new strategy."
July 24, 1992 (after both the Barrios Altos and La Cantuta crimes), Fujimori signaled that members of subversive groups "are going to be eliminated – them and their poison."
At the end of the trial session, Fujimori spoke, saying he had publicly and privately defended Montseinos because he was unaware of the advisor's illegal activities. Furthermore, he never knew of Colina's existence: "neither Gen. Nicolás Hermoza Ríos nor Montesinos talked to me about the existence of Colina or agents that committed murders."
Fujimori also stated that he never approved of a dirty war strategy: "I will repeat once again, I did not make a mistake, with the exception of these unfortunate crimes [Barrios Altos and La Cantuta]." He insisted that he did not allude to murder when he used the expression "new strategy" and did not refer to "making terrorism disappear from the face of Peru" when he used the expression "eliminating them and their poison."
Public Prosecutor's opinion. According to the Public Prosecutor, this evidence strengthens the theory held by the Public Prosecutor's Office that the Colina Military Detachment perpetrated the Barrios Altos and La Cantuta crimes as part of a government policy, which was a parallel strategy approved by .
Defense's opinion. Fujimori's lawyer, César Nakazaki said this evidence should be declared invalid since it lacks evidential value.
I. Next session.
The next session will take place on Friday, Dec. 19, where the following witnesses will be present: Nelson Carvajal García, Federico Navarro Pérez, Juan Rivero Lazo and Jesús Sosa Saavedra.