Since the beginning of his human rights trial on Dec. 10, 2007, former Peruvian president Alberto Fujimori has allegedly suffered from hypertension (suspending the very first trial session), leg and foot inflammation, exhaustion, a gastroenterological problem that could lead to diarrhea, a benign lesion on his tongue that was surgically removed and a pancreatic tumor, among other various ailments. 
Even now, the complaints continue. Pro-Fujimori newspaper La Razón declared on Wednesday, Sept. 10, "Ulcers and hemorrhages threaten Fujimori!" The article continues by saying that Fujimori's personal doctor, Congressman Alejandro Aguinaga, claims "the erosive gastritis that [Fujimori] suffers from is a direct consequence of the prison regime and exhausting trial sessions he is subjected to, because being closed up doesn't just weaken but can manage to disrupt someone's emotional balance and alter their immune system."
However, the trial sessions currently last six hours — not eight, as stated in the article — and include recesses every two hours, which were precautions taken specifically to respect Fujimori's fragile health. Recently over half of the sessions have lasted less than four hours due to the absence of witnesses or a lawyer's request suspend the session.His prison conditions include daily patio access, visits from anyone he approves of (including fortune tellers and a popular rock band), ample space, a television, reading material and more. In light of these facts, the media seems to be exaggerating Fujimori's health conditions.
Back in May, the front page of La Razón claimed that "Fujimori has cancer!" even though the former president had not received such a diagnosis. Also, as covered by fujimoriontrial.org on May 23, his son Kenji Fujimori told the press that he wants "those responsible for this cruel treatment" toward his father to know that he suffered from "high arterial hypertension, bronchitis, acute lumbago [lower back pain], swelling in the legs, digestive disorders and new worrying symptoms."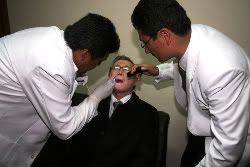 But this trial, it seems, is not the only time Fujimori's health has interfered with his obligations.
Before he was elected as president, Alberto Fujimori notoriously got food poisoning from a codfish on the day that he had to present his government plan to the country for his campaign. To date, the issue of whether the intoxication was real or simply an excuse to evade presenting a plan he hadn't prepared continues.
It is also well known that during his 10 years in government, Fujimori constantly visited traditional doctors, called shamans or witch doctors, in order to treat supposed illnesses. His trips to the north of Peru to a place known as Huaringas were notorious. Also during this time an invitation for Joao Texeira — a Brazilian witch doctor thought to treat discomforts and bring good luck — was leaked to the press.
On Nov. 10, 2000 — just after Fujimori's right hand man, Vladimiro Montesinos, was arrested for innumerous corruption charges — CNN reported that "in Peru, foreign ministry sources said they had been told Fujimori's health has deteriorated since he arrived in Japan on Friday on what was to have been an overnight visit to seek loans from the Japan Bank for International Cooperation for Peru." From there, as a result of initial health complaints, Alberto Fujimori resigned as Peru's president on Nov. 19 and was declared a Japanese citizen in December, where resided for five years, immune to Peru's requests for extradition to stand trial.
Commenting on Fujimori's lifestyle a year later, a New York Times article reported: "People close to the former president say he passes his days mainly in solitude in a luxury apartment here writing his memoirs and learning to adapt to life as a regular citizen." They did not report any apparent ongoing health issues.
Likewise, during Fujimori's stay in Chile — while awaiting a possible extradition after having been arrested on his way to Peru — Chilean media sources consistently confirmed the former president's good health. After visiting his father on Nov. 12, 2005, Hiro Fujimori told Santiago newspaper El Mercurio, "my father is very healthy, he has a medical check every day, he's eating very well." According to Fujimori's defense lawyer, Gabriel Zaliasnik, on May 19, 2006, his health "was very good, he was happy and satisfied and awaiting a reunion with his children."
Thus what happened to cause Fujimori's good health in Chile to deteriorate so quickly after having arrived in Peru? Has pro-Fujimori media exaggerated normal health complications or has his trial attendance and prison conditions brought on such diseases as leukoplakia, pancreatic tumors, ulcers or hemorrhaging?
On June 29, 2008, Juan Paredes Castro, analyst and editor of local newspaper El Comercio, remarked that "Fujimori's capacity to manipulate the truth, devise surprising situations and sweet-talk citizens and foreigners, which was for a long time jokingly taken as a Creole virtue, suddenly has more suspicious characteristics."
Other local analysts, such as editor-in-chief of Perú21 Augusto Álvarez Rodrich, believe Fujimori seeks to escape from his trial through health problems: "As is known, there is a maximum term of 12 work days [for a suspension during the trial] in order for the trial to continue. If that occurs, if this term is broken, the trial would have to start the entire process from scratch, beginning with day one."
Thus Peruvians are watchful as Fujimori's trial winds down, wondering if health problems could threaten the criminal proceedings. As complaints of fragile health and severe treatment continue, so does the debate on the real motive behind them.