(From left to right: Presiding Judges Víctor Prado Saldarriaga, César San Martín – President of the Court – and Hugo Príncipe Trujillo)
September 5, 2008 
Ninety-seventh session. Former Argentine military official José Luis García continued to speak from the last session. García said that Directive No. 003-91, established during Fujimori's government, gave the president (then Alberto Fujimori) order and command over the Armed Forces in counter-subversive efforts.
1. Incidents during the hearing
Fujimori's health
The Court announced that the necessary medical exams were carried out for the cyst found on Fujimori's pancreas. The Institute of Neoplastic Illnesses (INEM) and the Institution of Magnetic Resonance (RESOMASA) were in charge of the exams, in order to discover the nature of the cyst.
2. International expert – Among the most important things said by international expert José Luis García are:
Directive 003-91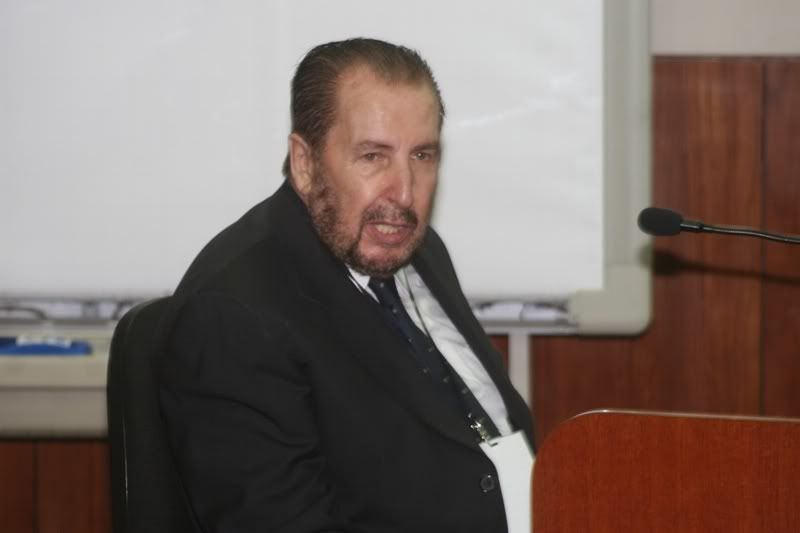 This directive has been provided by Fujimori's defense as proof of innocence. However, according to García, this document gave Fujimori order and command over the Armed Forces in counter-subversive operations. Thus the directive came from Fujimori's command as Supreme Chief of the Armed Forces, making it obligatory.
Command Responsibility
García asserted that according to the "command responsibility doctrine," three elements need to be proven in order to demonstrate command responsibility:
1.     The perpetrators of the crimes are in an effective line of command.
2.     Regardless of the head of command's level, he or she must know the acts or have the means to know that these acts occurred.
3.     When the acts (the crimes) have been committed, adequate mechanisms are adopted in order to avoid punishing the perpetrators and fail to prevent the acts from happening again.
Shining Path's strategic equilibrium
Fujimori's defense has argued that subversive group Shining Path's had strategic equilibrium — was reaching its objectives to take power and overturn the government — in order to justify the coup d'état in April 1992, known in Peru as the "self-coup." However, the Argentine expert said Shining Path did not threaten the government's vital areas, such as the capital Lima, meaning it had not reached strategic equilibrium in 1992.   
3. Next session 
The Court announced that at the next session on Sept. 8, US legal analyst Kate Doyle will be presented as an international expert.