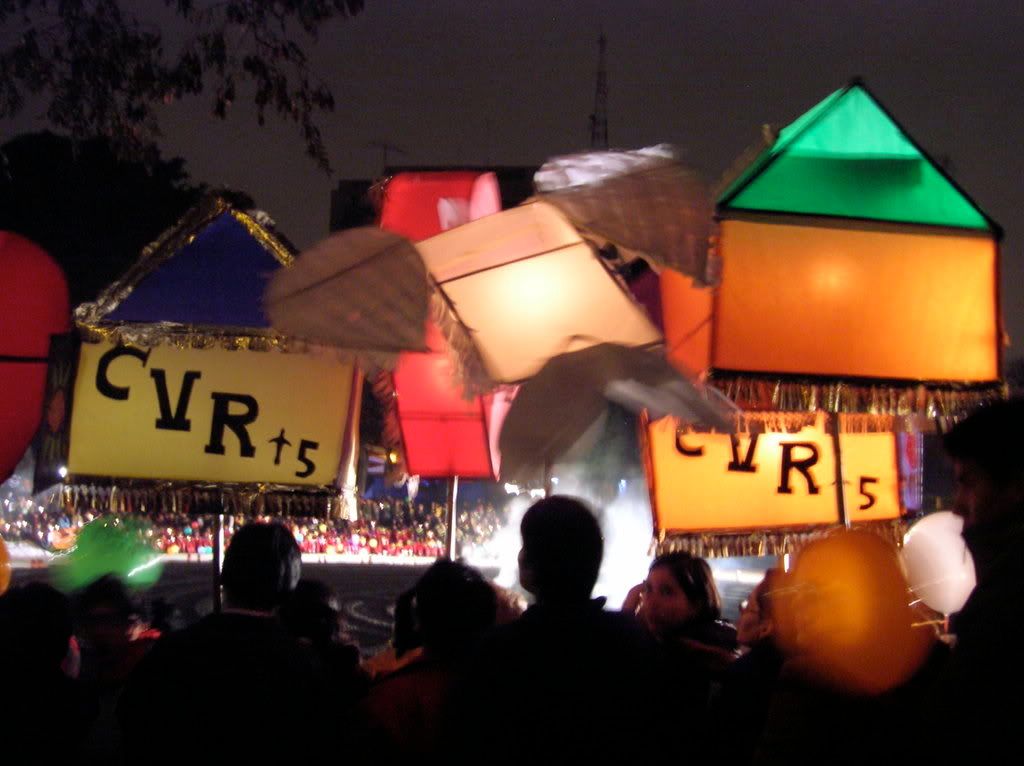 (Fifth anniversary of Truth and Reconciliation report, held in the "Ojo que Llora." Photo: Praxis.) 
As in past years, the traditional meeting in the monument El Ojo que Llora ("The Eye that Cries") was held on the evening of Aug. 28, celebrating the anniversary of the Final Report with speeches and various performances. This year, however, the anniversary was bombarded by pro-Fujimori demonstrators who interrupted the speech by Salomón Lerner, former head of the Truth and Reconciliation Commission and squashed the candles that bore the names of the victims.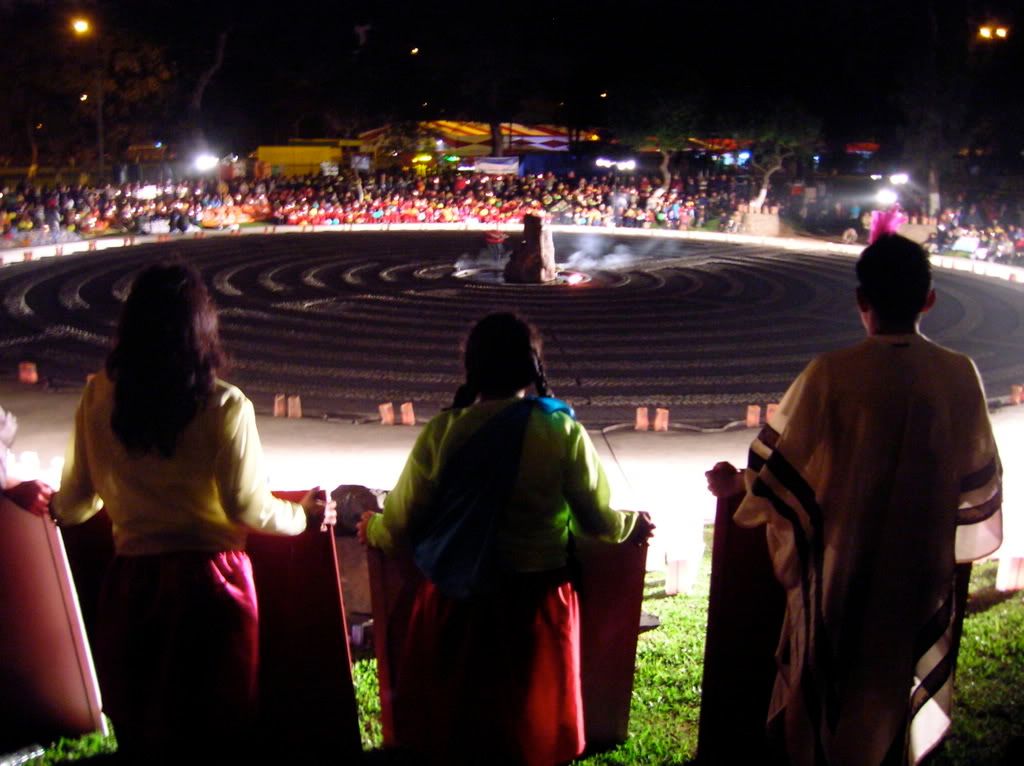 Lima newspaper El Comercio reported that "the demonstrators wore shirts with the face of the former president and stepped on the candles that were set out in remembrance of the victims of the political violence." Though the fujimorista political party claimed there was no link between them and the perpetrators, local newspaper La República informed that at least two have strong links to the Fujimori family.
(Congresswoman Keiko Fujimori next to one of the demonstrators, Patricia Vásquez – in black – at a party meeting. Photo courtesy of La República.) 
As former President Alberto Fujimori's human rights trial winds down and the fifth anniversary of the Truth and Reconciliation Commission's Final Report approached on Thursday, Aug. 28, the national and international human rights community picked up speed. As a result, there were a slew of commemorative events held throughout July and August. 
One of the additional events this year was an international conference entitled "Persistent inequalities, memory, justice and institutional reforms in a post-conflict society," held on Aug. 19-21 by the Pontifical Catholic University of Peru's Institute for Human Rights (Idehpucp) and the Institute of Peruvian Studies (IEP).
The announcement for the conference asserted that: "After five years, it is important to evaluate the Final Report's content and its impact on public opinion, bearing in mind the fundamental issue of Peruvian elites' resistance in recognizing this past and in promoting the necessary measures to overcome our condition as a post-conflict society and to build a country of citizens that are free and equal before the law and respectful of their differences, which the Peruvian Truth and Reconciliation Commission recognized as requirements for national reconciliation."
(Local news analyst Rosa María Palacios) 
Speakers included academic professors and experts from Latin America, Europe and North America, all with the common goal of analyzing Peru post-conflict and post-truth commission. Through assessing current achievements and shortcomings, the conference attempted to shed light on how to continue Peru's reconciliation process.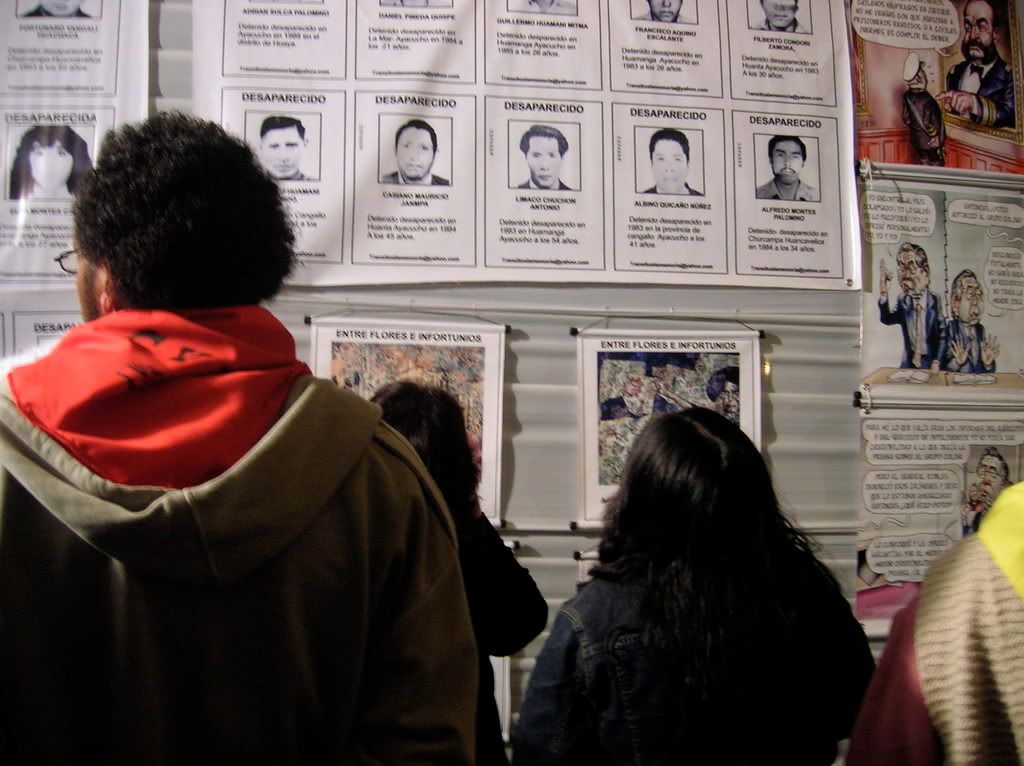 The conference was divided into panels, which consisted of three to five speakers and a moderator, as well as individual lectures. The issues discussed included memories of conflicts; memory, art and culture; comparisons between memory in Peru and Colombia; gender, memory and violence; institutional reforms, including education and the armed forces; Alberto Fujimori's human rights trial and the judicial process; and finally, the truth and reconciliation commission.