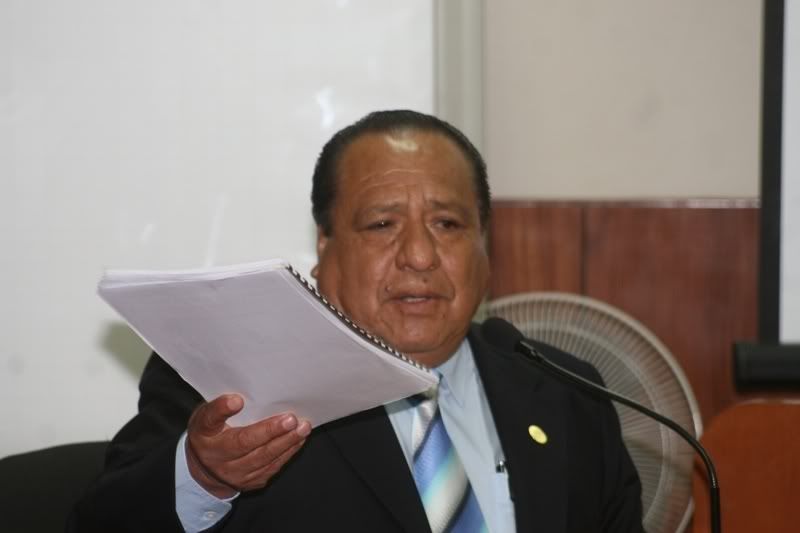 (Witness Máximo San Román Cáceres. Photo: Judicial Power)
August 8, 2008
Eighty-eighth session. Máximo San Román Cáceres, who was Alberto Fujimori's Vice President from July 28, 1990 until April 5, 1992, testified during this session that he informed the president about Vladimiro Montesinos and his connection to the Colina military detachment, but that Fujimori didn't take notice. 
1.              Incidents surrounding the criminal trial
Lessons in witchcraft
In response to the press' recent reports of Fujimori's visits from Salomé Ybargüen and Rosa Chu — who allegedly read the ex-president's future through coca leaves during this session's first recess — former fujimorista congressman, Luis Delgado Aparicio, talked to journalists about different types of witchcraft.
Court extended deadline to turn in evidence
At the request of César Nakazaki, Alberto Fujimori's lawyer, the Court agreed to extend the deadline for turning in evidence until the last of the testimonies.
New witness called
The Court decided to call María Elena Castillo, a journalist from local newspaper La República, to testify in the trial since she interviewed Jesús Sosa Saavedra while he was still a fugitive from justice. In the interview, Sosa implicates Nicolás de Bari Hermoza Ríos — former Commander General of the Armed Forces, currently tried for crimes committed by the Colina Detachment — as well as Fujimori's former personal advisor Vladimiro Montesinos, in Colina's creation, organization and crimes.
2. San Román Cáceres' testimony– Among the most important parts of the witness' testimony for this criminal trial were:
Fujimori and Montesinos in 1990
San Román claimed he was only present at two meetings with Fujimori and personal advisor Montesinos. One of these meetings was in the early morning of July 29, 1990, in Fujimori's room right after he had assumed the presidency on July 28. San Román said he went to tell the president that he had been informed by Rosa Fujimori, the president's sister, of a supposed uprising by the navy. When he was in his bedroom, Fujimori sent for Montesinos. When the advisor arrived, the president asked San Román to leave the two of them alone. The witness also said that the relationship between Fujimori and Montesinos was "very close."
Accusations against Montesinos in 1990
Later, in August 1990, San Román anonymously received an intelligence note listing Montesinos' experience in spying, selling confidential information and association with drug-traffickers. The witness delivered this over personally "to the hands" of Fujimori, additionally informing the president of the Senate's concern regarding Montesinos' past. However, Fujimori limited himself to answer that it was his decision to have Montesinos as his personal advisor and requested that San Román not bring the issue up again.
Accusations against Colina crimes and Montesinos in 1992
In March 1992, San Román again anonymously received an intelligence note, this time connecting Montesinos and other military personnel to the Barrios Altos crime. The note pointed to Montesinos, Santiago Martín Rivas, Carlos Pichilingüe, as well as some other military officials as those responsible, and also gave details on the procedural "errors" during the crime.
Once again, San Román delivered this information to Fujimori, but the then president made no comment regarding it. Fujimori himself testified in this trial that he found out about the Colina Detachment's existence in 1993 through Montesinos.
3.  Next session – At the end of the session, the President of the Court announced that the next session would be carried out on Monday, Aug. 11 and that former police colonel Benedicto Jiménez Baca would be summoned to testify.