(Former Gen. Nicolás de Bari Hermoza Ríos. Foto: Judicial Power) 
July 9, 2008
Eightieth session. Former Gen. Nicolás de Bari Hermoza Ríos continued with his testimony, during which he admitted that he met with agents from the Army Intelligence Service (SIE) in order to motivate them in their "silent work" and also that he hid the La Cantuta crime.
1.  Incidents during the hearing
Witness asks to be summoned after July 20
A note was presented from Juan Briones Dávila, Internal Affairs Minister during Fujimori's government, requesting that he testify after July 20 since he will have a lawyer after that date. Briones was condemned in November 2007 to 10 years in prison for treason and kidnapping during the April 5, 1992 coup d'état.
Witness dropped
Public Prosecutor Avelino Guillén stated that the Public Prosecutor's Office no longer intends to present former Gen. Alberto Arciniega Hubby since he lives abroad and it would be impossible to locate his residence.
Fujimori will undergo surgery again
On Thursday, July 10, Fujimori will undergo surgery to remove two reactive granulomas detected on his tongue by the National Institute of Neoplastic Illnesses.
2. Hermoza's testimony – The most important part of the witness' testimony for this trial were:
The corrections continue
As in the previous session, Hermoza dedicated himself to making "precisions" to his testimony in 2001. Hermoza's lawyer, César Nakazaki, also represents former President Alberto Fujimori; however, at the time of Hermoza's testimony in 2001, Nakazaki was not yet representing Fujimori, who was in Japan with no plans to return.
Though Hermoza previously said that Montesinos conveyed Fujimori's orders, he said during this session that what he meant to say is that Montesinos gave some ideas for debate before Fujimori arrived at meetings with the National Defense Council.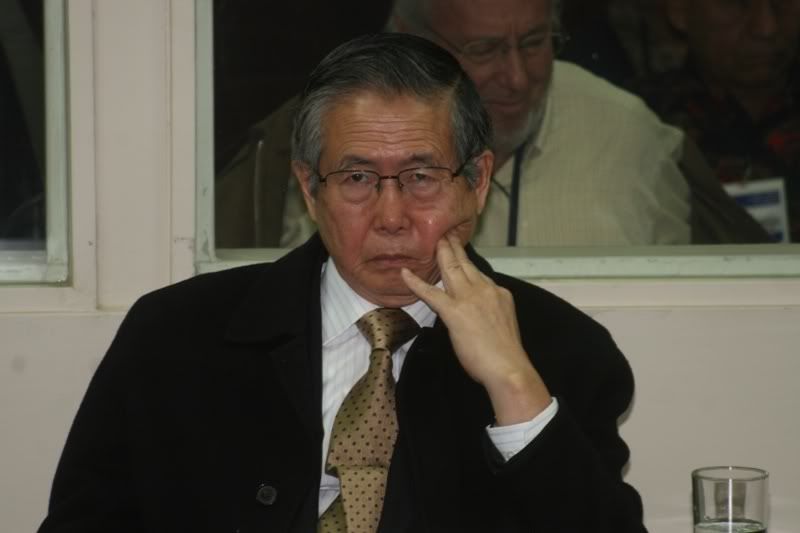 Likewise, the witness claimed that what the magazine Caretas published in 2003, based on questions he was asked by journalist Gustavo Gorriti, was untrue. Caretas had made the assertion that the Colina military detachment received orders from the National Intelligence Service (SIN) and that Fujimori was aware of this.
The crime of Barrios Altos
Hermoza said that he found out from the Army Intelligence Office (DINTE) that the army had not been involved in the Barrios Altos crime. At that time, Hermoza was Commander in chief and Pedro Villanueva Valdivia was the Army Commander General.
He said he found out through the press later that army personnel were implicated, leading him to once again request information from the DINTE. However, the DINTE repeated that the army had not been in involved.
Meeting and complicity with SIE agents
This session's big revelation was Hermoza's confession that he had met with former army intelligence agents on Jun 27, 1992 — two weeks before the La Cantuta crime — on the seventh floor of the Army General Command, where he gave a speech to motivate them in their silent work and "internalize" what he called the "objectives of the new peace policy." According to Hermoza, it was not a lunch, as some witnesses have testified. Furthermore, Hermoza admitted that reference was made to Santiago Martin Rivas.
Former Colina agents who have testified during this session have referred to this meeting as a support lunch, when the detachment had already committed seven crimes. They claimed the lunch was given by Hermoza, who at that time was Army Commander General.
Information on the La Cantuta crime withheld
Hermoza claimed that he found out about the La Cantuta crime through Montesinos the day after it occurred. Montesinos had called the act an excess and "an act that disregarded all policies on peace," The witness also revealed that he had withheld the information he knew about the crime from the Judicial Power and the Constituent Democratic Congress. "I withheld it because the press was treating the issue terribly and if the Armed Forces' objective and mission was to pacify the country, this political and psychological treatment was damaging for its pacification." He said that Montesinos had asked him for some time to find a solution to this.
No action taken on Colina
Though the Colina cover-up was revealed, Hermoza testified that he did nothing to deactivate this detachment.
3. Next session
The next session will continue with Gen. Nicolás de Bari Hermoza Ríos' testimony.