July 2, 2008
Seventy-seventh session. Former Commander General of the Peruvian Army, Pedro Villanueva Valdivia, answered the Public Prosecutor's questions in this session.
1.              Incidents during the hearing
Montesinos' testimony ruled invalid
The Judges presiding over the human rights trial of former president Alberto Fujimori declared Vladimiro Montesinos' testimony, given last session, invalid. The Court considered Montesinos' conduct "damaging" for the trial, since he first agreed to testify and later abruptly invoked his right to silence.
2. Pedro Villanueva Valdivia's testimony – Villanueva, witness called by the defense, answered Public Prosecutor José Peláez's questions. The most relevant parts of the first session of his testimony were: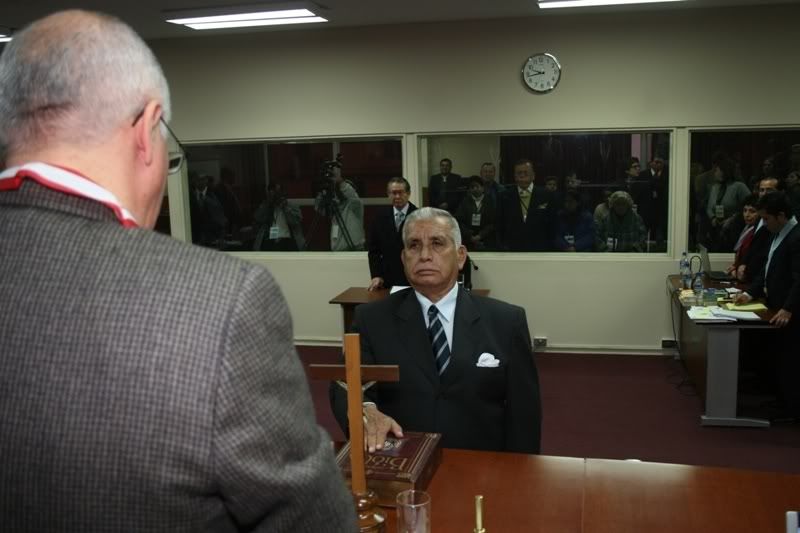 In 1991 the army did not implement a "dirty war" against subversive groups
Just as the majority of military officials who have testified in this trial, Villanueva denied that the Peruvian Army implemented a "dirty war" policy in 1991. Villanueva also denied having participated in a meeting in June 1991 that another witness, journalist Umberto Jara, claimed is where the decision to implement a "low-intensity war" was made to combat the Shining Path and Tupac Amaru Revolutionary Movement.
Apart from this trial, it has been proven that Peruvian military officials had combated subversive groups since 1980 by committing serious human rights violations. However, the Defense Ministry has not officially recognized these violations to date.
Villanueva claims the Peruvian Army respected human rights
The witness testified that in 1991 a policy of complete respect for human rights was implemented and the military sought backing from the population for this policy.
DINTE director always communicated with Villanueva
According to Villanueva, Juan Rivero Lazo, head of the National Intelligence Office (DINTE) communicated with him daily, but did not present him any Operations Plan. Likewise, Villanueva never knew of a memorandum sent to the head of the Army Intelligence Service (SIE), ordering military personnel and armament to be made available for the formation of a Special Intelligence Detachment. This was also testified in this trial by former military general Juan Rivero Lazo.
3. Villanueva Valdivia will continue next session
Villanueva will continue giving his testimony for the next session on Friday, July 5.