(Former general Julio Salazar Monroe. Photo: Judicial Power)
June 27, 2008
Seventy-fifth session. Former general and head of the National Intelligence Service (SIN) Julio Salazar Monroe finished his testimony by answering the Judges' questions.
1. Incidents during the hearing:
Public Prosecutor offers more evidence
At the beginning of the session, Public Prosecutor Avelino Guillén offered to give the Court on Monday, June 30, a total of 680 documents from SIN computers that were investigated by the Judicial Power. These documents include:
1. Decree-Law No. 25635, which Fujimori implemented in July 1992, three months after his "self-coup" on April 5, 1992. The decree put the SIN at the level of a government ministry and named the president, Alberto Fujimori, as its head. It additionally established the SIN's vertical command over the different intelligence agencies in the Armed Forces and the National Police.
2. Presidential speeches
3. Responses to possible questions from journalists
2. Julio Salazar Monroe's testimony – The witness responded to the Judges' questions. The most relevant parts of the witness' testimony tenth and last session to testify were:
Salazar reiterated that Fujimori gave him direct orders
The witness repeated that he got direct orders from Fujimori regarding the SIN budgets, which were to be managed by Vladimiro Montesinos: "I didn't decide, I carried out an order from the President."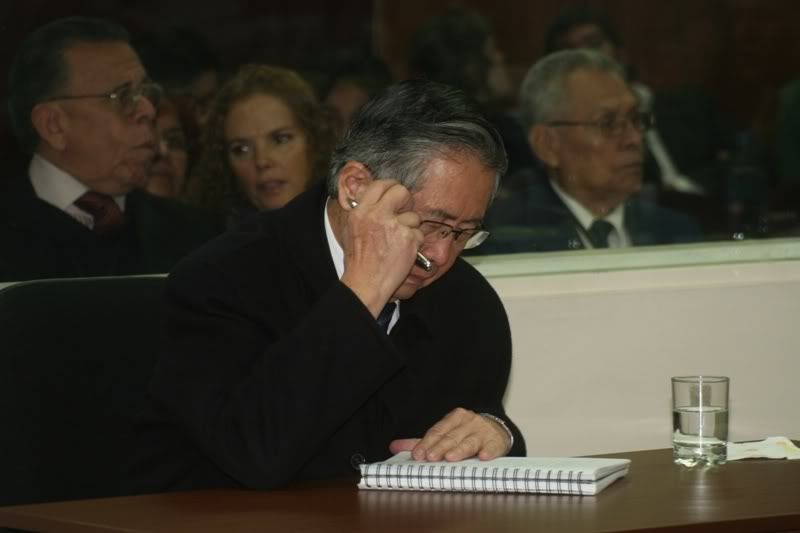 Witness delegated his position to Montesinos
Salazar, who was head of the SIN, confessed that his meetings with Fujimori were sporadic and sometimes put Montesinos in charge of communicating with the president. He also said that other government ministers similarly delegated their communication with the president to Montesinos.
Thus the witness seems to be confirming the Public Prosecutor's assumption that Montesinos was the de facto head of the SIN and had responsibility for the SIN's actions since he was the one who received direct orders from Fujimori.
3. Next session: Montesinos
The Court called Vladimiro Montesinos to testify on Monday, June 30. Fujimori has not seen his former advisor since 2000 when Fujimori illegaly entered into the house of Montesinos' wife.
Montesinos has the option to give his testimony or invoke his right to silence since he is being tried for similar cases. For this reason the Court has also summoned former general, Pedro Villanueva Valdivia, who was Commander General of the Army in 1991 and will testify in the event that Montesinos invokes his right to silence.