"Fujimori has cancer!" cried the front page of an influential, pro-Fujimori newspaper La Razón on Tuesday, May 20. "Abusive trial kills him slowly."
Throughout the trial of former president Alberto Fujimori, his supporters have made repeated complaints to the press, including (but not limited to) his supposedly harsh penitentiary regime and prison conditions, the outlandish assertion that human rights organizations support terrorism, consistent claims of poor health that are repeatedly denied by the Peruvian Institute of Legal Medicine (IML) and his drowsiness — resulting in the reduction of the trial's daily duration.
Back in February, Justice Minister Rosario Fernández scolded Fujimori supporters (fujimoristas) for claiming that Prime Minister Jorge del Castillo was responsible for slowly killing the ex-president, since Kenji Fujimori publicly blamed him for alleged abnormalities in his father's prison regime. Fernández told local newspaper La República that "the fujimoristas must be more responsible in their declarations [to the press], since they are misinforming the population regarding former president Alberto Fujimori's legal and personal situation."
Most recently, alarm has been caused over the health of former Peruvian president, Alberto Fujimori, due to a supposed case of leukoplakia, a precancerous lesion that forms on the inside of the cheek or on the tongue. Fujimori's head doctor, Alejandro Aguinaga — who is also currently a member of Peruvian Congress — has declared that the lesions bleed and cause the former president a lot of pain (RPP, May 20, 2008).
While leukoplakia is considered precancerous for its "ability to develop into squamus cell carcinoma" — the second most common form of skin cancer — it does not imply that the person affected will have cancer (Skin Cancer Foundation). Atypical moles, for example, are also considered to be precancerous (American Osteopathic College of Dermatology). The principal causes of leukoplakia are drinking or smoking excessively, however doctors have also found a link between leukoplakia and the human papillomavirus. Former president Fujimori does not smoke or drink alcohol.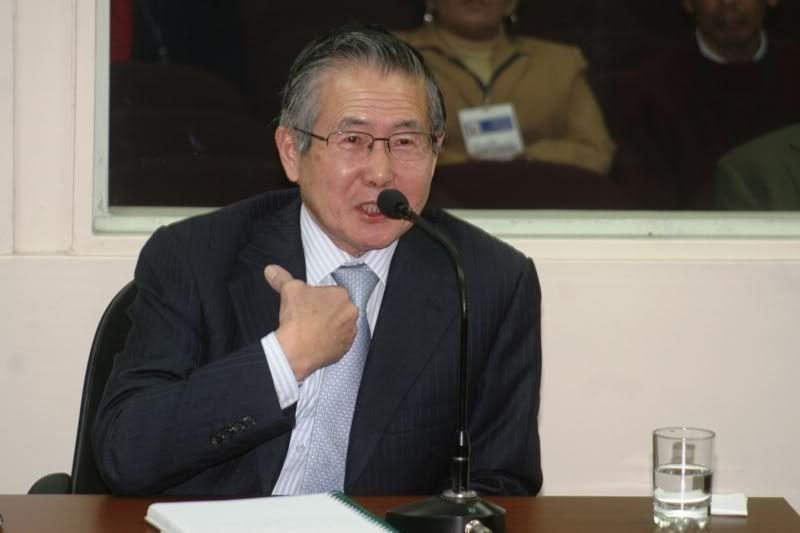 The former president's son, Kenji Fujimori, however, told press that he wants "those responsible for this cruel treatment" toward his father to know that he currently suffers from "high arterial hypertension, bronchitis, acute lumbago (lower back pain), swelling in the legs, digestive disorders and new worrying symptoms" (24 Horas Libre, May 19, 2008).
Furthermore, Congressman Aguinaga has requested that the trial recess for 15 days so that the Fujimori can rest. As the Court and lawyers involved in the case are surely aware, a recess of more than eight days would annul the trial entirely, in which case it would start from scratch when initiated at a later date.
However, up to now, the Institute of Legal Medicine has announced on various occasions that former president Alberto Fujimori is in good health, as reported on fujimoriontrial.org. In their current state, Luis Bromley, head of the IML, qualified the white spots on Fujimori's tongue as "millimetric" in size, arguing that while the former president will undergo a biopsy in order to clarify the threat that these lesions pose, it should not slow down or affect the trial he currently faces. He also added that "no medicine book lists prison as risk factor for cancer" (RPP, May 20, 2008).
Today at the beginning of the trial, Fujimori himself told the Court about his health condition, claiming that his leukoplakia symptoms first appeared five weeks ago. The President of the Court, César San Martín lamented that this was not shared with the Court at that time.