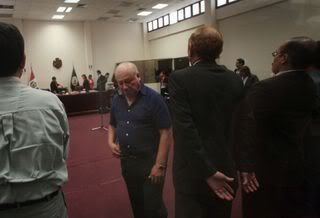 Julio Salazar Monroe, condemned to 35 years of prison. (Picture from ANDINA)
April 9, 2008 
Yesterday, the Peruvian First Special Criminal Court sentenced nine former members of the Colina group in a trial for their role in the Cantuta University murders of nine students and a professor.
Three members were sentenced to 15 years in prison, four were absolved, Julio Salazar Monroe — former head of the National Intelligence Service — was sentenced to 35 years and Ángel Pino Díaz was not mentioned in the sentence.
Those condemned to 15 years included José Alarcón Gonzáles, Fernando Lecca Esquén and Orlando Vera Navarrete, while Manuel Hinojosa, Carlos Miranda Balarezo, Aquilino Portella and Carlos Rodríguez Córdova were all absolved.
In addition to recognizing the Colina death squad as a detachment that operated within the Peruvian military structure — as opposed to an unofficial paramilitary group — the Court said that the detachment had the approval of President Fujimori.
Peruvian newspaper Perú21 said that Court "also considered that Fujimori — currently being tried in the Supreme Court for this and other human rights violations — received the reports on the [Colina] detachment from then head of the [National Intelligence Service] that the former president had illegally put in charge of the fight against subversion."
            —Perú21, Apr. 9, 2008, "El fallo de La Cantuta incrimina a Fujimori"
The Associated Press in Lima reported that "Jose Pelaez, the prosecutor in Fujimori's trial, said guilty verdicts in Tuesday's ruling would "establish a precedent" in the former president's case." Furthermore, Pelaez told the news agency that, "If the men who carried out the acts are found guilty, undoubtedly, the man at the top of the command chain, the man behind it all, Fujimori, also will be condemned for the same acts."
            —Associated Press, Apr. 9, 2008, "Peru Court Convicts 4 for 1992 Massacre"